Amirali Rajan helped port "A Dark Room" to mobile, adding features in the process such as extra text and alternate endings.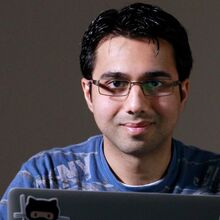 He has a mastery of
Ruby on Rails
JavaScript
C#
ObjectiveC
F#
OSS: NSpec
Oak Mvc
Canopy F#
[1] The Ensign Noble Circle Mildly Interesting RTS
Rajan's website Other creations and qualifications Rajan's GitHub Rajan's Twitter
Ad blocker interference detected!
Wikia is a free-to-use site that makes money from advertising. We have a modified experience for viewers using ad blockers

Wikia is not accessible if you've made further modifications. Remove the custom ad blocker rule(s) and the page will load as expected.